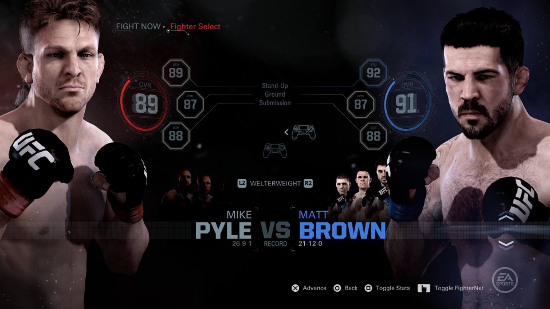 It may be practically dead at this point but it remains important for EA Sports to support the UFC title that launched in June. Having opened to weak sales, and dropping off the map since, the goal isn't necessarily to capture new consumers (the damage has already been done, interest waned and competition too fierce now) but display a commitment to what is hoped to be a long-running franchise.
The changes that have been made since release in now two patches demonstrates the company has identified why the game wasn't successful. Unfortunately the reasoning was obvious all along, and they chose instead to design and promote it in a manner that led to its downfall, but if the lessons have been learned that could lead to a significantly improved product when the next iteration arrives likely in 2016. Continue on for the details of the latest patch and who has been added to the roster in the update. 
- Three new fighters have been added: Matt Brown, Mike Pyle, and Stipe Miocic.
Kick Catching
Users will now have the ability to catch opponents' kicks during parries if the attacking fighter has low stamina or high leg-damage when throwing the kick. If the parry button is held, a takedown will be initiated.
Manual Taunts
Users will now be able to add insult to injury with a well-placed taunt. Pressing Left or Right on the directional pad will cause a fighter to taunt their opponent mid-bout.